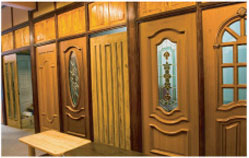 The Finest Masterpiece
One of FURNDOR's greatest strength is our vast experience and expertise in timber doors industry. Our organization has a great collection of new and exciting designs for solid decarative wooden doors which we have thought on and put these ideas into works of arts.
Pure Solid Wood Door
Solid wood interior and exterior doors have a number of advantages which should certainly be considered when installing new or replacement doors. The key advantage is aesthetics.
1.
Look Better Than
hollow core or engineered doors
2.
Look Good Over Time
withstand years of heavy service
3.
An Energy Efficiency Stance
keep rooms cool or hot as needed
4.
Sound proof
keeping the house quiet